Knowledge Acquisition and Dialogue
Research Team
Research Summary
Communication through language is an essential tool for robots to cooperate with users in daily lives. This research team focuses on modeling intention estimation, thinking, and inference on verbal and non-verbal communications. We are working on the following topics: action management of dialogue robots, spoken dialogue related technologies modeling thinking, inference, and topic selection of robots knowledge expressions grounded on robot behaviors and dialogue contents incorporating emotion and language information empathy, emotion, and trust in dialogue.
Main Research Fields

Natural language processing
Spoken language processing
Intelligence information processing
Keywords

Spoken dialogue systems
Multimodal information processing
Language understanding
Language generation
Embodied dialogue
Robot intention
Dialogue policy learning
Research theme

Environment understanding from verbal and non-verbal information
Inference on knowledge
Memory representation of experiments and knowledges
Action decision
Dialogue response generation
Robot action generation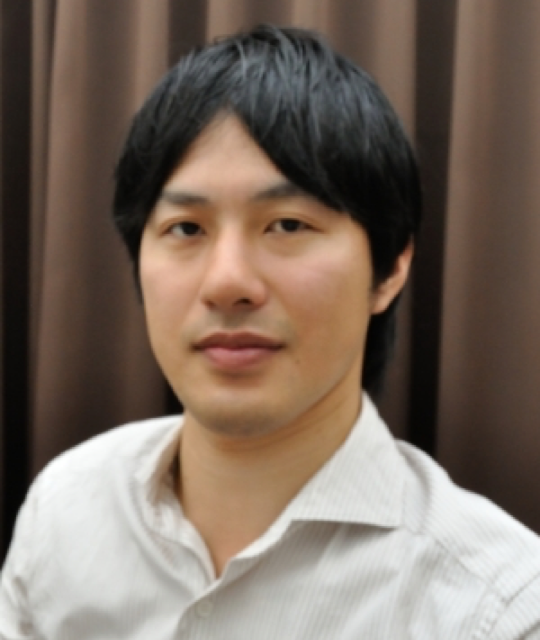 History
2009

Bachelor of Arts, Keio University

2011

Master of Informatics, Kyoto University

2014

Ph.D. Informatics, Kyoto University

2014

JSPS Research Fellow (PD), ACCMS, Kyoto University

2015

Project Assistant Professor, Graduate School of Information Science, NAIST

2016

Assistant Professor, Graduate School off Information Science, NAIST

2016

PRESTO Researcher, JST

2020

Team Leader, GRP, RIKEN
He is a Visiting Researcher at AIP, RIKEN from 2017. From 2019 to 2020, he was a visitor researcher of HHU Düsseldorf, Germany.
Award
2013

SIG Research Award, The Japanese Society for Artificial Intelligence

2018

Outstanding Journal Paper Award, The Association for Natural Language Processing

2019

Best Paper Award, ACL2019 NLP for Conversational AI Workshop

2020

Outstanding Paper Award, The Association for Natural Language Processing

2020

SIG Research Award, The Japanese Society for Artificial Intelligence

2020

Best Paper Award, IWSDS2020
Members
Postdoctoral Researcher
Postdoctoral Researcher

Angel Garciacontreras

Postdoctoral Researcher

Hideko Habe

Technical Staff I
Junior Research Associate

Takamasa Iio

Visiting Scientist

Seitaro Shinagawa

Visiting Scientist

Daichi Yoshihara

Research Part-time Worker II

Taiki Nakamura

Student Trainee

Shota Kanezaki

Student Trainee

Kenta Yamamoto

Student Trainee

Nobuhiro Ueda

Student Trainee

Shun Inazumi

Student Trainee

Konosuke Yamasaki

Student Trainee

Kanta Watanabe

Student Trainee

Yasutaka Odo

Student Trainee
Former member
Muteki Arioka

Research Part-time Worker I (2020/08-2022/03)

Liu Qianying

Student Trainee (2021/04-2022/03)

Rino Naka

Research Intern (2021/08-2021/09)

Kana Miyamoto

Junior Research Associate (2022/04-2022/05)

Issei Matsumoto

Research Intern (2022/09)
Research results
Explanation by the robot itself
We have developed a framework that allows a robot to explain what it has done in natural language. The robot can understand the actions it has taken and explain them in language using the trajectory of the robot's motors and first-person images. This technology improves the explainability of the robot's actions, and even when an action fails, the robot can explain what it tried to do and what happened as a result.

Dialogue system that makes witty recommendations.
Dialogue systems need to take appropriate actions not only for clear user requests such as "Please launch the camera app" but also for ambiguous and vague ones such as "I love the view here." We built such a reflective dialogue system by collecting a corpus that includes pairs of ambiguous requests and corresponding reflective actions. A proposed Positive/Unlabeled (PU) learning method achieved higher classification performance than a conventional PU learning method.

Selected Publications
Shohei Tanaka, Koichiro Yoshino, Katsuhito Sudoh, Satoshi Nakamura.
"Reflective action selection based on positive-unlabeled learning and causality detection model."
Computer Speech & Language, 101463. 2023.
Seiya Kawano, Muteki Arioka, Akishige Yuguchi, Kenta Yamamoto, Koji Inoue, Tatsuya Kawahara, Satoshi Nakamura and Koichiro Yoshino.
"Multimodal Persuasive Dialogue Corpus using Teleoperated Android."
In Proceedings of INTERSPEECH2022, pp.2308-2312, Incheon, Korea, September 2022.
Yuya Nakano, Seiya Kawano, Koichiro Yoshino, Katsuhito Sudoh and Satoshi Nakamura.
"Pseudo Ambiguous and Clarifying Questions Based on Sentence Structures Toward Clarifying Question Answering System."
In Proceedings of Annual Meeting of the Association for Computational Linguistics DialDoc Workshop, Dublin, Ireland, May 2022.
Akishige Yuguchi, Seiya Kawano, Koichiro Yoshino, Carlos Ishi, Yasutomo Kawanishi, Yutaka Nakamura, Takashi Minato, Yasuki Saito and Michihiko Minoh.
"Butsukusa: A Conversational Mobile Robot Describing Its Own Observations and Internal States."
In Proceedings of 17th ACM/IEEE International Conference on Human-Robot Interaction, 2022.
Koichiro Yoshino.
"Embodied Dialogue by Autonomous Robot."
The third workshop of natural language processing for conversational AI (NLP4ConvAI) at the 2021 Conference on Empirical Methods in Natural Language Processing (EMNLP2021); Invited Talk, 2021.
Sara Asai, Seitaro Shinagawa, Koichiro Yoshino, Sakriani Sakti, Satoshi Nakamura.
"Eliciting Cooperative Persuasive Dialogue by Multimodal Emotional Robot."
International Workshop on Spoken Dialogue Systems Technology (IWSDS) 2021.
Seiya Kawano, Koichiro Yoshino and Satoshi Nakamura.
"Controlled Neural Response Generation by Given Dialogue Acts Based on Label-aware Adversarial Learning"
Transaction of The Japanese Society for Artificial Intelligence,Vol.36, No.4, July 2021.
Shohei Tanaka, Koichiro Yoshino, Katsuhito Sudoh and Satoshi Nakamura.
"ARTA: Collection and Classification of Ambiguous Requests and Thoughtful Actions"
Proceedings of the 22nd Annual Meeting of the Special Interest Group on Discourse and Dialogue (SIGDIAL 2021), Singapore, Singapore, July 2021
Seiya Kawano, Koichiro Yoshino, David Traum and Satoshi Nakamura.
"Dialogue Structure Parsing on Multi-Floor Dialogue Based on Multi-Task Learning"
In Proceedings of the first ROBOT-DIAL workshop at IJCAI 2020.
Seiya Kawano, Masahiro Mizukami, Koichiro Yoshino and Satoshi Nakamura.
"Entrainable Neural Conversation Model based on Reinforcement Learning"
IEEE Access, Vol.8, pp.178283 - 178294, September 2020.
Tung The Nguyen, Koichiro Yoshino, Sakriani Sakti and Satoshi Nakamura.:
"Policy Reuse for Dialog Management Using Action-Relation Probability"
IEEE Access, Vol.8, pp.159639-159649, 2020
Luis Fernando D'Haro, Koichiro Yoshino, Chiori Hori, Tim K. Marks, Lazaros Polymenakos, Jonathan K. Kummerfeld, Michel Galley, and Xiang Gao.:
"Overview of the seventh Dialog System Technology Challenge: DSTC7"
Computer Speech & Language, Volume 62, 2020
Seitaro Shinagawa, Koichiro Yoshino, Seyed Hossein Alavi, Kallirroi Georgila, David Traum, Sakriani Sakti, and Satoshi Nakamura.:
"An Interactive Image Editing System using an Uncertainty-based Confirmation Strategy"
IEEE Access, Vol.8, pp.98471 - 98480, 2020
The Tung Nguyen, Koichiro Yoshino, Sakriani Sakti, Satoshi Nakamura.:
"Dialog Management of Healthcare Consulting System by Utilizing Deceptive Information"
Transactions of the Japanese Society for Artificial Intelligence, Vol.35, No.1, pp.DSI-C_1-12, 2020
Nurul Lubis, Sakti Sakriani, Koichiro Yoshino, Satoshi Nakamura.:
"Positive Emotion Elicitation in Chat-based Dialogue Systems"
IEEE/ACM Transactions on Audio, Speech and Language Processing (TASLP), Vol.27, Issue.4, pp.866--877, April 2019
Koichiro Yoshino, Kana Ikeuchi, Katsuhito Sudoh, Satoshi Nakamura.:
"Improving Spoken Language Understanding by Wisdom of Crowds"
In Proceedings of The 28th International Conference on Computational Linguistics (COLING2020), Barcelona (virtual), Spain, December 2020 (accepted).
Koichiro Yoshino, Kohei Wakimoto, Yuta Nishimura and Satoshi Nakamura.:
"Caption Generation of Robot Behaviors based on Unsupervised Learning of Action Segments"
In Proceedings of International Workshop on Spoken Dialogue Systems Technology (IWSDS) 2020, Madrid (virtual), Spain, Sep. 2020.
Seiya Kawano, Koichiro Yoshino, Satoshi Nakamura.:
"Neural Conversation Model Controllable by Given Dialogue Act Based on Adversarial Learning and Label-aware Objective"
The 12th International Conference on Natural Language Generation (INLG2019), Tokyo, Japan, October 2019.
Shohei Tanaka, Koichiro Yoshino, Katsuhito Sudoh, Satoshi Nakamura.:
"Conversational Response Re-ranking Based on Event Causality and Role Factored Tensor Event Embedding"
The 1st workshop on NLP for ConvAI workshop in ACL conference, Florence, Italy, July 2019
Links
Knowledge Acquisition and Dialogue Research Team(RIKEN)





Contact Information
koichiro.yoshino [at] riken.jp